Last month I took advantage of a week-long holiday by hopping the border over to Syria. I had been looking forward to this trip ever since I first decided to return to Jordan and was pleasantly surprised that I was able to visit so soon.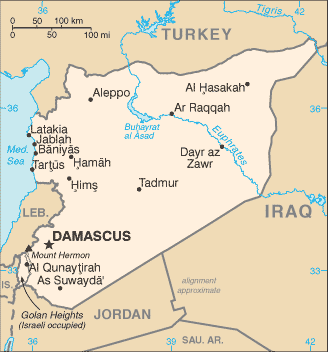 I learned a lot about the country while I was there, but for the sake of brevity I'll list a few interesting things:
1. Everyone I met was extremely hospitable and friendly. No Anti-Americanism to be found, aside from the obligatory criticisms of Bush.
2. They love their President.
3. The internet is harshly censored. Websites like facebook, yahoo, and amazon.com are blocked, but people can usually access them using a proxy server. Hosting random foreigners (i.e. couchsurfing) is illegal, but a few people do it anyway. I'm grateful to the Syrians who gave me a place to stay, showed me around, shared their stories, and went out of their way to ensure that I had a wonderful time in their country.
Step aboard and come along with me on a picture tour of my amazing adventure!
Your tour guide, at the Citadel in Aleppo:
The Citadel, which served as a power base for the Muslims during the 12th-century Crusades.
View of Aleppo:
The souk (market) in Aleppo, arguably the best in all the Middle East
Danish Denniz, Syrian Adam, and Polish Tim chatting outside of Adam's cafe, where we all CouchSurfed. For more information on CouchSurfing see:
www.couchsurfing.org
.
Adam's beautiful cafe:
My new best friend (she didn't even have a name when we met!):
So tiny!
At man-made Lake Al-Assad. We camped there the previous night and withstood an intense downpour. The facilities were inadequate to handle that kind of rain, so every tent, backpack, and sleeping bag was soaked. No one could sleep so we stayed up all night having soggy, silly, fun.
We went to checkout a nearby fortress and ran into a wedding party! They insisted we join their dance circle and pose for pictures with all the guests. This is typical Syrian hospitality. Their fascination with foreigners feels awkward at first, but is ultimately very endearing. I hope they're enjoying their wedding photos of us dirty backpackers.
Onward to Hama, a nice stopover town full of 13th-century norias (water wheels)
How great is this building?
The popular President Bashar al-Assad, whose image is ubiquitous. In case you can't tell, this is a hologram on the rear window of a car. What a cool cat.
How many pictures of Bashar can you find?
The window display of a photo shop. My Polish friends and I laughed until we cried at the blatant creepiness of this. A great gift for the pedophile in your life.
Hitching a ride, and of course stopping to let a herd of sheep cross the road.
Crac Des Chevaliers (or Qala'at Al-Hosn if you prefer Arabic), an incredible fortress built in 1031 by a Syrian emir and then expanded by the Crusaders in the 12th-century.
Damsel in Distress
The Deir Mar-Musa, or Monastery of Saint Moses, where travelers could stay for free so long as they did their share to help prepare meals, perform daily chores, and clean up after themselves.
Unfortunately this picture doesn't capture the dramatic, yet serene, desert mountains in which the monastery sits.
The ruins at Palmyra, magical at night (and completely open to be explored).
I woke up at the crack of dawn the next day in order to have the place all to myself.
This is, like, soooo Roman:
I loved every single second of this morning. These pictures don't even come close to capturing the magnificence of the place. I've seen my share of ruins, but there is something really special about Palmyra (Tadmoor in Arabic, in case you were wondering).
Men playing Backgammon on a side street in Damascus. Classic Syria.
Damascus at night:
This old chap recites classic Arabic stories at a cafe in Damascus...and I actually understood a few things!
Hey, does anybody know where I can go to put on some special clothes?
(Outside of the Ummayad Mosque they provide robes to wear before entering.)
Courtyard of the Ummayad Mosque:
And then inside...
Islam.
Thanks for taking part in my journey through Syria. I hope you found it enjoyable. :)
I'll leave you with this final image of a floating hijab (headscarf) cube that I stumbled upon in random Damascus street.
Because you never know what's just around the corner...